Louie Nottingham, Ph.D.
louis.nottingham@wsu.edu
Louie is a native of Virginia who caught the Western expansion bug after graduating from college with a BS in Biology. Following stints working in fisheries and ornithology (ask him about birds!) in several states including Montana, Idaho, and California, he returned to Virginia Tech to work on Vegetable IPM in Tom Kuhar's lab for his PhD. In 2017 he headed west again, leaving veggies in the dust (much to the delight of his back) and started a post-doc in pear IPM with Betsy Beers' lab at TFREC. His work on the efficiency of kaolin clay for suppressing pear psylla led to the spectacle of beautiful white clay covered trees that adorn the valley each spring.  In 2019 he started his own lab at TFREC as a research assistant professor and is currently the benevolent overlord of 4 post-docs, 2 technicians, and 3 seasonal employees. Louie's current research areas include developing a pear psylla decision support tool incorporating a phenology model, pest thresholds and natural enemy levels; and improving pest management strategies for leafhoppers vectoring x-disease in cherries.  Louie loves the outdoors and all of the recreational opportunities this area has to offer. He spends his free time hiking, cycling, skiing and hanging out with his wife Molly and their awesome dog Blackbird.
Robert Orpet, Ph.D.

robert.orpet@wsu.edu
Robert is a postdoctoral research associate focusing on various elements of pear IPM including biological control with earwigs and cultural control using reflective ground covers. Robert has a particular interest in understanding the roadblocks between research-based recommendations and commercial implantation. In his recent project testing reflective ground covers in commercial orchards, Robert is interviewing his orchardists to learn if these methods could be commercially viable. Follow Robert on Twitter @2robsterlobster.
Katlyn Catron, Ph.D.

katlyn.catron@wsu.edu
Dr. Katlyn Catron is a recent graduate of the Virginia Tech Entomology Department in Blacksburg, VA. She has experience in a wide range of entomological contexts, from stream invertebrates to bed bugs and cockroaches to vegetable pests. She hopes her extensive background in science communication and Extension will be a valuable addition to the Nottingham lab, where she is excited to begin working on X-disease in Washington cherries.
Chris McCullough, Ph.D.
christopher.t.mccul@wsu.edu
Chris finished his Ph.D. in Horticulture in 2020 at Virginia Tech. He has worked in row crops, vegetable crops, with ticks, and bees. Chris hopes to bring together these experiences working in the Nottingham lab studying pear psylla, the usual suspect. He is excited to study the ecology and management of this pest of pear trees.
Rob Curtiss, Ph.D.
rcurtiss@wsu.edu
Rob has a Ph.D. from Michigan State University, a MS from Washington State University, and a BS from the State University of New York College of Environmental Science and Forestry. He has worked as an entomologist at SUNY-ESF, Cornell University, the University of British Columbia, and the State of Hawaii – Department of Agriculture. Rob's past research included taxonomy of terrestrial and aquatic invertebrates in Upstate New York, chemical ecology of Tomicus piniperda, pathogens of Anoplophora glabripennis and Lymantria dispar, attractants of Chrysopidae in Pacific Northwest pear orchards, taxonomy of Pacific Northwest insects, the use of the sterile insect technique on a farm-scale, and farm-scale dispersion of Cydia pomonella and the influence of farm structures and pheromone mating disruption on their dispersion. In Hawaii, Rob was responsible for the State's Biological Control, Chemical and Mechanical Control, and Apiary programs and implemented successful large scale invasive insect eradication and control programs. He has also worked as the Manager of Special Projects at the Washington Tree Fruit Research Commission and as a contract entomologist/identifier. While at TFREC, Rob will be studying cultural control techniques for and dispersion of Cacopsylla pyricola in Pacific Northwest pear orchards.
Molly Sayles
Molly is a Ph.D. student researching the behavior and ecology of pear psylla and decision-making of pest management stakeholders. She graduated from Oberlin College in 2020 with a BA in Environmental Studies. At WSU, she is interested in learning how researchers can improve Extension efforts to better communicate findings with pear growers. In her free time, Molly loves outdoor recreational activities, reading (for fun) and bothering her cat, Warren. Follow her on twitter @entomollogist.
Chris Sater

csater@wsu.edu
The lab cannot function without Chris! Chris manages administrative tasks like budget management, hiring, and purchasing, and is also critical to quality control of data, reports and publications. Additionally, Chris is our resident computer wiz, and is the one to go when you have an issue with MS Excel or need to make a spiffy PowerPoint slide. Finally, Chris is unofficially in charge of elevating lab morale with a contagious laugh and the best scones you've ever tasted!
Myk Veitas
Myk is a native of Western Washington and spent some time in Walla Walla, which allowed him to develop a love of all things wine. Since being in Wenatchee, he's been interested in developing his skills in agriculture and pest managment to pursue a career in viniculture and wine making. We're glad to have Myk around because he keeps us on our toes with tough research questions, and at 6'4, he can hang mating disruption in the upper canopy with ease!
Delany Frazier
Delany (i.e., Dr. Laney) is a native of Plain Washington – yeah, it's a place, and it's not as plain as it sounds!. She grew up doing all sorts of outdoor sports, from rock climbing, to cross country skiing, to snowboarding, to hiking (all are mandatory if you live in Plain). She is also an artist, inspired by the amazing scenery of her hometown. When Delaney is not finding parasitic wasps and bizarre insect eggs under the microscope, she is taking classes at Wenatchee Valley College and helping her friends ID insects on their small farm. We're so excited to have Delaney with us this summer!
Cody Andre
Cody hails from the one and only Apple Capitol of the woooooooorld (Wenatchee, WA). He graduated from WSU with a major in physical sciences. While he was interested in engineering career, we are hoping to show him to the light (pun intended) of entomology. Like most native Wenatchians, Cody spends his winters at Mission Ridge and his summers either on the Wenatchee River or the trails surrounding out beautiful valley. Glad you're on board Cody!
Gerardo Garcia
gerardo.garcia1@wsu.edu
Gera spends most of his days working for the Washington Tree Fruit Research Commission as their equipment operator, but also helps our program and others at the TFREC in his off time by performing research and maintenance sprays. Gera grew up in an agricultural family and comes with a ton of knowledge about spray equipment and conducting both large and small plot spray trials. We are so grateful to Gera and the WA Tree Fruit Research Commission, because tractor sprayers are, like, really really complicated. Thanks Gera!
Kobe (Bryant) Lucas is a Wenatchee/Brewster native who joined the lab in the spring of 2021. Despite his height and name, Kobe ran bases instead of shooting hoops. He came to us from Semios because he wants to learn more about the research side of agriculture.  Kobe is a person of many talents, from insect ID to auto repairs. Moreover, he knows exactly when and what kind of donut you need.
Nic Lopez is a 2021 graduate of Wenatchee High School who came to us from, well, right across the street from the TFREC. Nic and his family have worked in orchards so don't let his age fool you, the man has seen some tree fruit. When he's not aspirating leafhoppers or measuring psylla honeydew production for the lab, Nic spends much of his time on the soccer field, crushing the pride of any team who dares step to Wenatchee High. Not only were they number 1 in the state, they broke the record for biggest defeat in school history (like 13-0 or something… brutal). Good thing Nic is on our team.
Clare Nelle
Clare is a Leavenworth, WA native and 2020 valedictorian of Cascade High School (no big deal…). She came to us in March 2020 when her school closed due to COVID. Although her long term goal is to get a Ph.D. in physics, she has shown a real knack for the entomology. Clare just finished her freshman year at Hamilton College in Upstate New York, but she is back for another summer of fun in the insect world!
Jill Dinius
Jill worked for 3 years in the Vince Jones insect behavior and ecology lab before joining the Nottingham lab, where she worked on a number of projects including pear psylla biocontrol with earwigs and Spotted Wing Drosophila gut content analysis for determining unknown previous hosts. Jill is a natural entomologist and can ID just about anything you pull out of an orchard!  Jill is currently working for the Musacchi lab at WSU-TFREC.
Sam Martin
Sam is a Wenatchee native and WSU grad, but more importantly, he is the guy who can do it all! As an undergrad Sam worked in Dr. Cameron Peace's genetics and plant breeding program on project RosBreed.  In our lab Sam spent his time in grower orchards IDing insects to them improve their management programs, scouting pear and cherry blocks for pests and natural enemies, and running insect bioassays or feeding trials in the lab. If you're out hiking on the trails around Wenatchee keep and eye out, Sam's likely to come flying past you on his mountain bike. Sam is currently a pest management manager for Anheuser-Busch.
Lukas Sherman
shermanlukas89@gmail.com
i.e. "Big Sherm", "Big Worm", "Big Perm", or "Guy with the bird" is a Wenatchee area native who earned an A.A. in the Sustainable Agriculture and Resources Program at Wenatchee Valley College. Lukas grew up in an orchardist family growing apples and cherries in Quincy, WA. His education and background in growing made him an incredible resource to our program. Lukas could do everything from designing experiments to operating commercial sprayers. Lukas has recently started a new job as an agricultural inspector with the newly formed Tri-County (Chelan, Douglas and Okanogan) Horticultural Pest and Disease board. We miss Lukas every day.
Bruce Greenfield worked for the TFREC in various labs since the 1990s. He could build anything and always knew how to get the job done; he was also the only person tall enough to load a Potter Spray Tower without a stool! We wish Bruce the best in his retirement and new life in Oregon.
Lauren Rooney (not pictured) graduated from WSU's food science program in the spring of 2020 before coming to our lab. Lauren's keen attention to detail helped her quickly learn how to ID numerous orchard insects. We wish Lauren the best of luck in her future positions!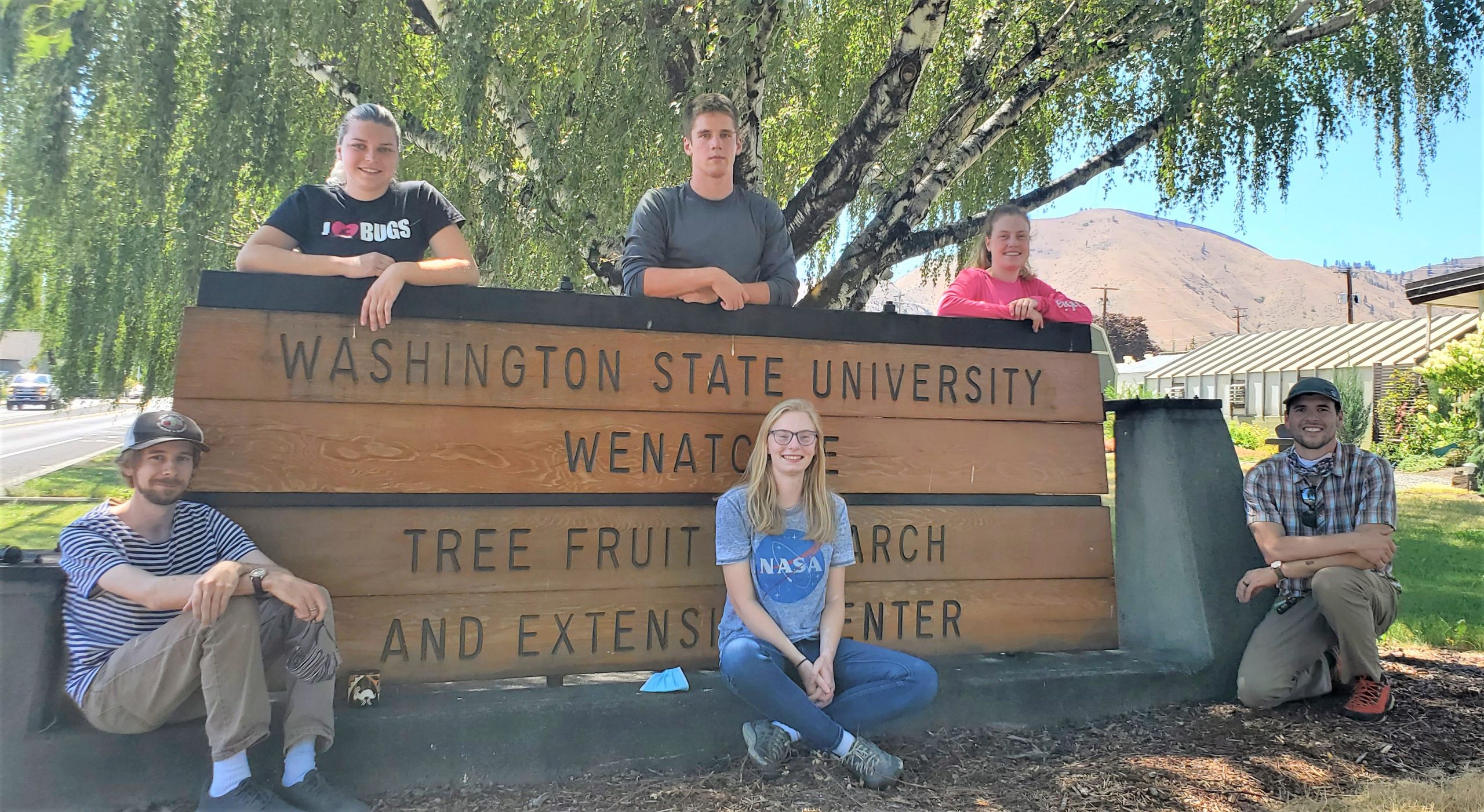 2020 Nottingham Lab
(left to right) Robert Orpet, Jill Dinius, Sam Martin, Clare Nelle, Lauren Rooney, Louis Nottingham (not pictured Chris Sater and Gerardo Garcia).